OVERVIEW:
When you look at India as a home theater market, growing urbanization and acceptance of new technologies with increased per capita income are the driving force behind consumption. Every modern-day Villa/Bungalow even in Tier-2 cities like Mysuru, Shivamogga, Coimbatore and Trivandrum are built with a dedicated media room with best of the Best home theater systems today.
High-Quality home theater system with comfortable seating is the gateway to "Movie nights", along with services from Netflix and Amazon.
But I, As a Home Theater Consultant, do not expect all my AV enthusiast customers to have a dedicated room for movie viewing. For those of you who are interested in enjoying your favourite movie right in your living room, "Living Room Cinema" systems work incredibly well.
So let's dive deeper and understand What a Living Room Cinema is, What are the components you need and the best option available for a moderate budget of 2,00,000 INR.
WHAT IS IT?
A Living room Cinema is a concept wherein the main Living area of your Home, fitted with Premium quality sound system and an LED Television, helps you have a fantastic movie-watching experience.
WHAT DO I NEED?
Medium-Sized Room (ex: 18'x15′): You will need a moderately sized room furnished with a couple of upholstered sofas, carpet rugs and windows covered with thick drapes or curtains. All these items put together will help you in improving the room acoustics by reducing echo and reverberation.
Visual Media: This could either be a TV or a home entertainment Projection system. (Suggested read: https://symphony440dg.com/projector-vs-tv).
Audio System: Consisting of Speakers and Audio-Video Receiver.
Cables: Some good quality Audio-Video cables to connect all these above mentioned devices.
A Living room cinema primarily revolves around a Home theatre speaker system. So let us try and have a better understanding of the Best Home Theater system that you can buy for a budget of 2 Lakhs INR.
BEST OPTION:
My favourite "Living room cinema" package has always been the Jamo S807 Speaker system coupled with a Denon AVR X2700H. (Of course with a Samsung/Sony Television for the Visuals).
This combo of Jamo & Denon works exceptionally well and comes across as a budget-friendly, Performance-oriented Living room home theater system that's hard to beat at this price.
Let us see why this Audio System has a Cult following(Including us?)  Already!
SPEAKERS: The Jamo Studio Series speaker system introduced in late 2017 won the EISA award the following year as the Jury at EISA felt that there was no other Speaker package that could beat Jamo S807 sonically.
Jamo S 807 Dolby Atmos Speaker package(5.1.2 or 7.2.4) consists of S807 Jamo tower speakers, Corresponding S83 Center channel and Jamo S 803 or S 801 Jamo bookshelf surrounds and 6.5Cs range of Jamo ceiling speakers.
Since the Jamo Studio Series offers two subwoofer models in the form of Jamo S 810 and 808, you will have the option of choosing between the two considering the room dimension and the quantity of bass required.
The TOWERS: Talking about S 807 Jamo tower speakers, they act as the main Left and right speakers in a Dolby Atmos set up with specially designed metal fasteners atop the cabinet that can accommodate a pair of Jamo S8 ATM Dolby Atmos speaker modules. This technology will help in a scenario where mounting the traditional ceiling speaker on the false ceiling is impossible.
The S 807 Jamo tower speaker is a 2-way system engineered to deliver 100 Watts of power at 8 Ohms. The 1″ soft dome tweeter helps in the reproduction of detailed highs and dual 5″ LF drivers provide sufficient amounts of bass for music and movie watching.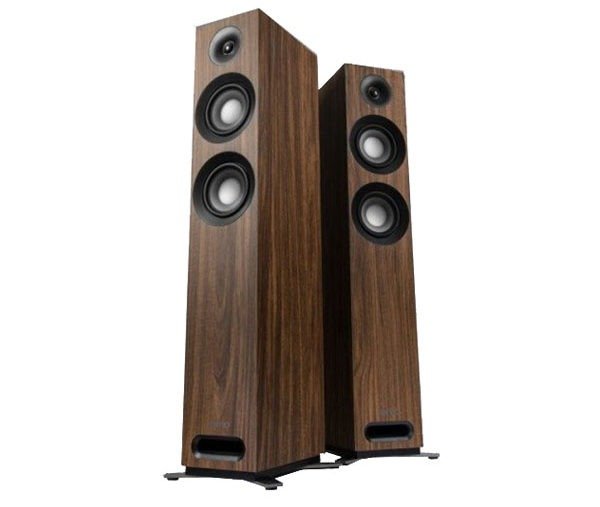 The CENTER: Jamo S 83 Center channel speaker, on the other hand, is a step up from the S 81 Jamo Center speaker that gets paired with the smaller Jamo S 805 tower speakers. Jamo S 83 with 80 Watts of power delivery and 2 LF drivers placed on either side of the tweeter integrates well with the S 807 Jamo tower speaker system. It produces crisp dialogues that are a must with regional Telugu, Kannada and Hindi movies.
The SURROUNDS: Jamo S 803 bookshelf surround speakers work incredibly well in a 5.1.4 or a fully blown 7.2.4 Dolby Atmos Home Theater setup. If you are looking to have the basic 5.1.2 Dolby Atmos configuration at your Home, then Jamo S 801 should also work well.
SUBWOOFER: Although there are two subwoofers to choose from, I would strongly recommend you to go with the top-end Jamo S 810 Subwoofer as it can give you that extra depth and punch that is very much essential for a Livingroom home theater setup.
Voice of God: For a truly immersive Atmos experience, you will need to hear the sound that comes from the ceiling above you.
If you are a believer in the saying "Old is gold" and want to stick with traditional ceiling speakers on the ceiling, then you can always trust the 6.5cs Jamo ceiling speakers which are very moderately priced in India.
These ceiling speakers deliver about 50 watts of continuous power and work great in a Dolby Atmos movie set up. If you want to go one step further and get the best Jamo ceiling speaker for Atmos application, then you can easily choose the Jamo IC 606 FG that has better drivers and crossovers but with a slight bump in price.
For all these Jamo speakers to work, you would need what I would term as The Heart of the Living room Home Theater set up: The AV receiver. A Denon AVR X2700H or an equivalent receiver with the continuous power delivery of close to 100 Watts per channel will get you home.
All these devices can be connected using audio cables from Belden or Audioquest, thus making sure you have tonally well-balanced connectivity between your Jamo Speakers and Denon AV Receiver.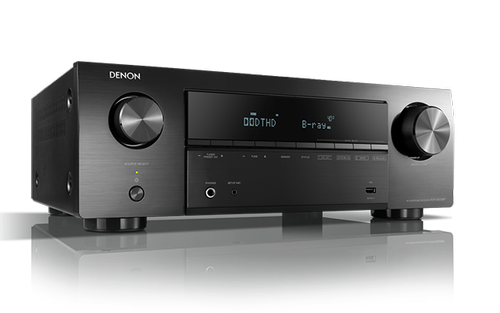 The Jamo S 807 Speaker Package is available in White, Walnut and black ash finishes and looks gorgeous when installed in any well-decorated living room.
The above mentioned 5.1.2 Dolby Atmos based Jamo Livingroom Home theater setup might set you back by 2 Lakhs In Indian currency. Still, the smile that it brings on your spouse' face due to its aesthetic appeal and the happiness you get due to its sonic performance is just PRICELESS!
Symphony 440 Design Group home theater installation team has about Ten years of experience in working with Jamo brand in India and has installed numerous high-end Jamo home theater audio systems across major cities in South and West India.
Talk to our Professionally qualified Sound and Acoustic engineers at Symphony 440 Design Group for best-in-class Jamo Home theater designs and implementation services.