How much does it cost to build a home theater in Bangalore, Chennai, Hyderabad, or other cities of India? Perhaps, this is the most common question we often hear.  We can assure you that your dream Home Theater Setup Cost can be below two lakhs, three lakhs, five lakhs, or the budget you have in your mind.
Home cinema installations come in different shapes and sizes. In this blog, I will explain everything you need to know to understand Home Theater Setup Costs.
How to build the Best Custom Home Theater? DIY or outsource to Home Theater Design Consultants
A home theater is a dedicated unit in your home, designed to enjoy an immersive experience of movies, sports, music, or other audio-visual presentations. It is designed to provide the best audio video viewing experience.
There are two ways to go about building your dream home theater. If you think you have the understanding and skills to build a home theater, you can take it as a DYI project.
If you'd like a professional to build one for you, you could reach out to any Home Theater Consultants. An experienced consultant will provide you with everything from equipment advice and electrical installation to soundproofing and riser construction.
Overall Home Theater Setup Cost 01- Room Design, Layout, Acoustics, and Home Theater AV System
First, I'm assuming that you have a room that meets the need for home theater. It could be a finished room in your basement or a spare bedroom. Once you've decided on the Room, consultants will evaluate the space and suggest acoustic treatment, audio-video equipment, seating arrangement, and more.
Home Theater Acoustic Interiors Costing:
Acoustic treatment is a critical part of building any home theater. When watching movies, you want to hear dialogues clearly and not rely on subtitles to understand what's happening. With proper acoustic treatment, you can make every piece of equipment perform better. Here is the cost based on the room size:
* 2.5 Lakh INR for budget-oriented setups for room sizes between 150 to 200 sq. ft.(Ex: 17'L x11'W Room)
* 3-4.5 Lakhs for a performance-oriented mid-sized room between 200 to 300 sq. ft.(Ex: 22'L x 13'W Room)
* 5 Lakh to 10 Lakh and above for people who want nothing but the best and have large rooms of 300 to 600 SFT.(Ex: 28'Lx 16'W Room)
Home Theater Audio-Video System Overall Costing:
* 3.5 Lakh INR for budget-oriented setups for room sizes between 150 to 200 sq. ft.(Ex: 17'L x11'W Room)
* 4-8 Lakhs INR for a performance-oriented mid-sized room between 200 to 300 sq. ft.(Ex: 22'L x 13'W Room)
* 8-20 Lakhs and above for people who want nothing but the best and have large rooms of 300 to 600 SFT.(Ex: 28'Lx 16'W Room)
Home Theater Setup Cost 02- Home Theater Equipment & Seating
Several pieces of equipment go into building a home cinema. From projector screens to home theater receivers, different equipment comes at different price ranges. Let me paint the picture for you:
Projector Screens: I cannot stress enough how crucial it is to pick suitable projector screens for your home theater. When you choose a good one, it will last for decades. A decent 120″ 16:9 screen starts at the base price of 23,500 INR.
A higher-quality screen of the same size would cost you around 43,500 INR. Anything lesser than 20,0000 INR will not get all the functionalities and performance your projector is capable of.
Home Theater Projectors: Every year, brands introduce new projectors with advanced capabilities into the market. The cost of the projector depends on the projection technology.
If your budget allows for it, I suggest you choose a projector starting from 80,0000 INR for a DLP,  56,000 INR for LCD, 1,80,000 INR for LCOS, and 3,00,000+ INR for laser projectors. These advanced projectors come with widescreen, 4K visual quality, and excellent video processing.
Cables and Accessories: Home Theater Cables & accessories are the basic building blocks of any home theater installation. It's crucial to futureproof all the wiring eliminating inconvenience that could creep in later and helping to accommodate new audio or video equipment.
Although it is difficult to give you the actual expense for Home Theater Cabling & Accessories, It generally varies between 25,000 INR to 65,000 INR for the entire set consisting of HDMI, Speaker Cables, Universal Projector Mount & Subwoofer Cables.
Surround Sound Speaker System: For a fully immersive experience, I strongly suggest you consider a complete surround speaker setup with Front and Center Channel Speakers, Subwoofers, and Effects Channels.
Depending on your budget and preferences, you can choose either a typical 5.1 surround sound system with five speakers and a sub or a Dolby Atmos/ DTS-X with nine speakers and two subwoofers.
Image Courtesy: Definitive Technology
I recommend spending at least 20,000 INR per speaker for the main front three speakers. Good quality subs start at the price range of 35,000 INR and can go as high as you wish. For effects channels that go on the ceiling, sides, and rears, you can choose a trusted brand at the cost starting from 20,000 INR.
Home Theater AV Receivers: This is the brain of the entire audio setup. It controls the surround sound processing, video switching, and amplification for your speakers.
You can see an all-in-one home theater receiver priced as low as 30,000 INR in the market. But the quality of low-priced receivers does not complement the capabilities of your speakers. So, I strongly recommend you go with a good quality AV Receiver that costs upwards of 75,000 INR.
Home Theater Seating: We've installed a wide variety of seating arrangements ranging from typical theater chairs to large comfy couches. Home theater seating price ranges from 8,250 INR per seat to 1,75,000 INR per seat based on the comfort level you want to achieve.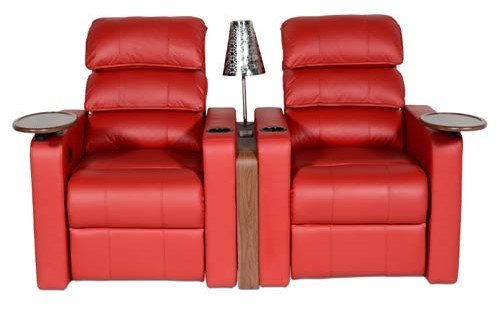 Manual Recliners cost anywhere between 25-35,000 INR per chair, while the Motorised ones cost between 45,000 INR to 2,00,000 INR each unit. If you want multiple rows of seating, you'll also have to consider riser construction costing in the 30-40,000 INR range additionally.
From my experience, I recommend you consider getting good quality seating that ranges from 50,000 INR. We deal with brands like Recliners India that customize materials, colors, and more to meet your requirements.
Home Theater Setup Cost- Next Step
At Symphony 440 Design Group, we have been designing home cinema for over a decade. In our experience, we have never had a client complain about the quality of our work after installation.
We deal with a wide range of home theater systems from renowned manufacturers, including QSC, Definitive Technology, Neumann, Klipsch, Sony, Viewsonic, Optoma, Paradigm, Turbosound, Anthem, Neumann, Sennheiser, Marantz, Denon, BenQ, and other popular brands.
Millions of customers have trusted the manufacturers and products we offer for providing the highest standard of quality, value, and performance.
If you have any questions about High-end home theater systems or acoustic treatments, don't hesitate to contact us for a free pre-sales consultation at +91 9986165200 or [email protected]